CAN You SELL A HOUSE DURING A CALIFORNIA PROBATE?
People are often pleasantly surprised to learn that the answer to this question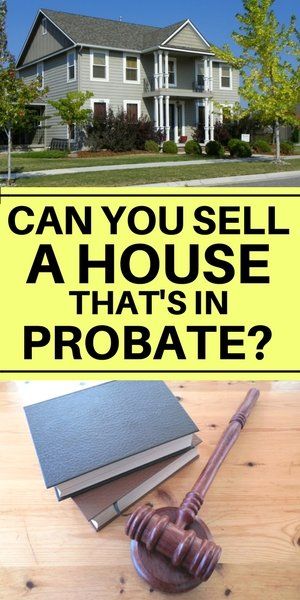 is an affirmative, YES! That is correct, without hesitation, and that is without any doubt.
You can sell a house during a probate in California. Let's talk about the "7 Most Important Probate Steps."
1. Filing correctly in Court. Prepare and file Petition for Probate. This takes 1-2 months. It is very important that you try to get "full" authority under the California Independent Administration of Estates Act (IAEA). Full IAEA will allow you to sell without formal court confirmation as long as nobody objects to the sale.
2. Hire an agent who is a Certified Probate Real Estate Specialist (CPRES). This designation helps the needs of the estate by speaking the legal language required in the probate process. You can locate my CPRES profile here.

3. Get the house ready for sale. Ask your real estate agent to prepare a free Probate Comparative Market Analysis (PCMA) for tax purposes as soon as possible. Your agent can also assist the process by coordinating estate sales, re-keying and securing the property, clean-out, contractor work, inspections and staging.
4. Sell Fast with a Cash Offer or list the home on the Realtor Multiple Listing Service (MLS). What to do? This all depends on your situation. A cash offer (because it's a sure thing) will likely be slightly below what you're willing to accept for your inherited property. But there's a big upside to cash including, no repairs, no commissions, and no hassle. Listing the home on the MLS could produce a buyer willing to pay more. However, the MLS could bring it's own set of problems like buyer concessions, buyer requested repairs, commissions, and inspection surprises (cracked slab, termite infestation, square footage discrepancies, encroachments, etc.
5. Discuss the offers you receive with your real estate agent and talk to your probate attorney too if you wish. Your real estate agent will help select the best offer price and terms, counter offer as needed, and get into contract with the right buyer. Your probate attorney will then send the Notice of Proposed Action (NPA) to all interested parties and communicate with the title company to get them the information they need.
6. Real Estate Disclosures. Talk to your real estate agent about what disclosures are required. The disclosures are more limited in a probate sale than a regular sale.
7. Escrow Details. When escrow closes, put the money into the estate bank account. Remember if there is over $250,000 at one bank it's a good idea to move some of the money to another bank so that all the money is covered by FDIC insurance. The current FDIC insurance limits are $250,000 per bank. While I acknowledge bank failure is not likely you need to remember that you have a fiduciary duty to protect that money!
Disclaimer: This is an overview of the real estate sales process in a California probate. You should talk to an experienced California probate attorney about your case to make sure you follow all the rules correctly in your case.